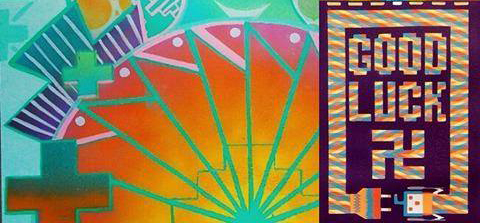 Lynnette Haozous X Melissa Cody
August 1, 2017
August 1st-19th, 2017 at FaraHNHeight Fine Art Gallery, Taos, NM
Opening Reception: August 1st (5:30-9pm)
FaraHNHeight Fine Art Gallery is thrilled to present the artworks of Lynnette Haozous and Melissa Cody. The feature paintings by Lynnette Haozous and textile work by Melissa Cody exhibits bold and vibrant traditional patterns, incorporating eclectic color schemes, and strong portraits of resiliant, indigenous women. Each artists' expression exemplefies the contemporary style of the indigenous female artistic expression.
Please join us for the Artists Opening Reception August 1st, 2017 (5:30-9pm) for music, live art, poetry, and light refreshments.
Featuring Local Poet: Coral Bernal, Live Artists: Monty Singer, Joeseph Arnoux & more to come!
About the Artists:
Lynnette Haozous
(Chiricahua Apache/Taos Pueblo/ Dine)
Growing up locally at Taos Pueblo, and around all of her tribes has influenced Haozous's artwork. Haozous's paintings have reflected the modern indigenous feminine perspective and experience. Haozous blends acrylics & aerosol, creating images of resilient Indigenous women, mixed with traditional designs, in a contemporary style to convey the Indigenous journey. Haozous recieved the 2012 Nativo Lodge/SWAIA Artist In Residency, the 2017 Nativo Artist Room Residency, and her mural works can be seen at Hotel Chaco and FaraHNHeight Fine Art Gallery.
Melissa Cody, Textile Artist
(Dine)
Melissa Cody is a fourth generation weaver from Arizona who works in the Germantown Revival style. Cody is a contemporary artist influenced by street culture and art, Cody uses traditional patterns incorporating eclectic color schemes, bold sharp lines with geometric overlay. Cody recently recieved the 2017 De Young Museum Fine Arts Artist In Residence Award, and a has recieved several awards at Santa Fe Indian Market throughout the years. Her current works are showcased at Hotel Chaco Gallery in Albuquerque, NM.